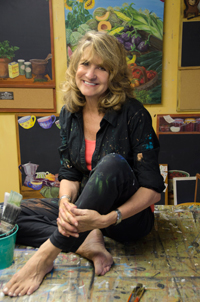 ABOUT
Karla Bove creates truly unique decorative blackboards handcrafted on wood using her original designs. These chalkboards, sealed to form a durable surface, and enhanced with a practical corkboard, can be custom-designed for personal or professional use—picture one in your kitchen, entry hall or great room. Or, if you are in the service business— restaurant, deli or café— and want to create a daily menu, they can be designed with your logo and catered to any special theme.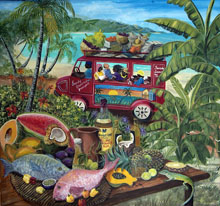 Use them for business or pleasure or give them as a gift to the friend who has everything. Safe and secure shipping is readily available for the lucky recipient. Contact Karla and she can discuss your needs.
Was there life before blackboards?

Yes! Karla is also a fine (fun) artist with deep roots on the island of St. Maarten, St. Barths and Anguilla. During her long residence in the Caribbean islands she was greatly influenced by the Haitian primitives and spent years painting bustling harbors, West Indian architecture, and sumptuous market scenes—all with incredible attention to detail. The reaction to her work has always been joy and happiness.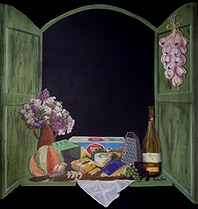 So what's the deal on the blackboards?
After leaving the islands Karla started focusing on her other passions - FOOD! She merged her culinary obsessions with her avid list- making and the first blackboard was born. Since that time she has been busy making hundreds of blackboards with many different themes. Choose one on the website or use your own creativity to merge Karlas' imaginiation with your vision. Karla's art has been collected worldwide and she is represented by the Artisan's Gallery in Waitsfield Vermont and at Art in the Village located in Warren, Vermont. Many pieces of her work have been lisenced to the elite Stave Puzzle company.
Recent History
Although Karla focused for years on capturing the charm of Vermont, specifically the Mad River Valley, she has now moved to the San Diego, California area. Be on the lookout for paintings and functional art as she looks forward to capturing all the beauty, fun and energy of which southern California abounds!